Explore our BIM Services (3D BUILDINGS)
Our BIM services link the 3D build asset model to a relational database that can carry all the information related to the build-asset. Under the BIM umbrella one can find many software applications that lead to an efficient design of space. Building Information Modeling is the creation of parametric (or intelligent) 3D models instead of 2D perspective, 'an-intelligent' drawings. BIM operates on a digital database and any change made to this database is reflected throughout the entire drawing. This allows everyone involved in the building lifecycle – architects, engineers, contractors, developers and building owners – to sync together allowing them to view the model in different ways and seamlessly share information.
Revit — 2D Drafting and Detailing
Starting from a parametric 3D model
Facades – presentations and schedules
Sections and elevations
Floor plans, ceiling plans, site plan
An AutoCAD-based project uses many files while a Revit-based project uses, in most cases, a single file – the model. The key point is that we always have a parametric 3D model, which reflects the latest changes, but with the possibility of reverting to different construction phases.
It is possible to configure and extract any desired plan, no matter if it is a floor plan, section, elevation. All plans created will reflect instantly changes made in the 3D model, one needs to print /export only the new set of plans. Presentation of 2D plans may be similar to AutoCAD, all plans can be exported as plain dxf/dwg file type.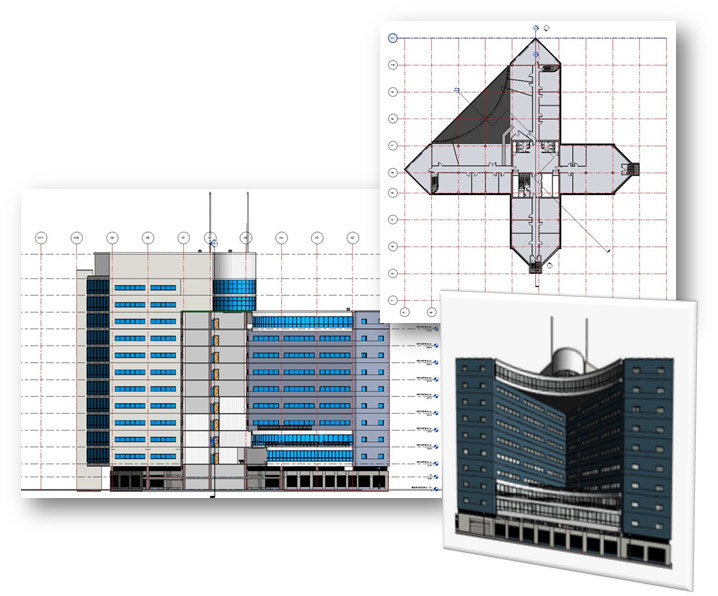 Revit Conversion
3D service modeling starting from 2D drawings/papers
BIM for FM services using object libraries
Revit – CAFM Software
-Horizontal spaces
-Vertical materials
Revit – Accurate equipment and fixture schedules (BOMs)
Unlike the simple lines and curves associated with traditional CAD tools, BIM technology incorporates intelligence within the model, including spatial data and geometry (providing a 3D environment), element properties plus comprehensive databases and component libraries.
You can easily define schedules with areas (Gross Building, Internal Gross, Rentable). Reports for schedules, rooms and areas may be exported. Ramps and roofs areas are automatically calculated from their slopes. Stairs and railings are easier to create, as this could never be done in design software.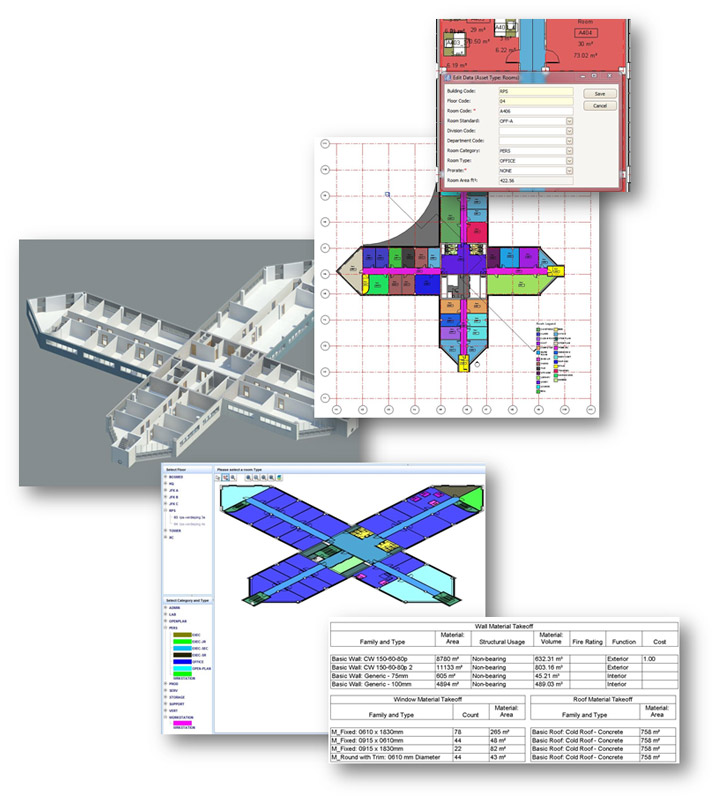 BIM Revit Services
Schedules/Quantities and Material Takeoff (BOM) lists can be generated at any time and for any item
Each level (floor) can be defined as an CAFM project and desired rooms and workspaces linked to databases
Spaces and volumes are easy to define and designations, finishes and info are added without effort
Vital information, such as vendors for specific materials, details for location and quantities required for estimation and tendering are easy to embed and link.
BIM Services offers:
Improved visualization
Improved productivity, due to easy retrieval of information
Increased coordination of construction documents
Embedding and linking of vital information, such as: vendors for specific materials, location of details and quantities required for estimation and tendering
Increased speed of delivery
Reduced costs
3D Presentations
3D Rendering/Perspectives
Photomontage
Design Presentations
Animation (walkthroughs and flybys)
Google earth export of detailed models
Render 3D Views as png, jpg or bmp files in different custom resolutions
Improve visualization with a better environment approach
Create multi-page Adobe PDF files with 3D views, sheet pages with elevations, sections and floor plans
Create walkthroughs for a better visualization and understanding of the site and buildings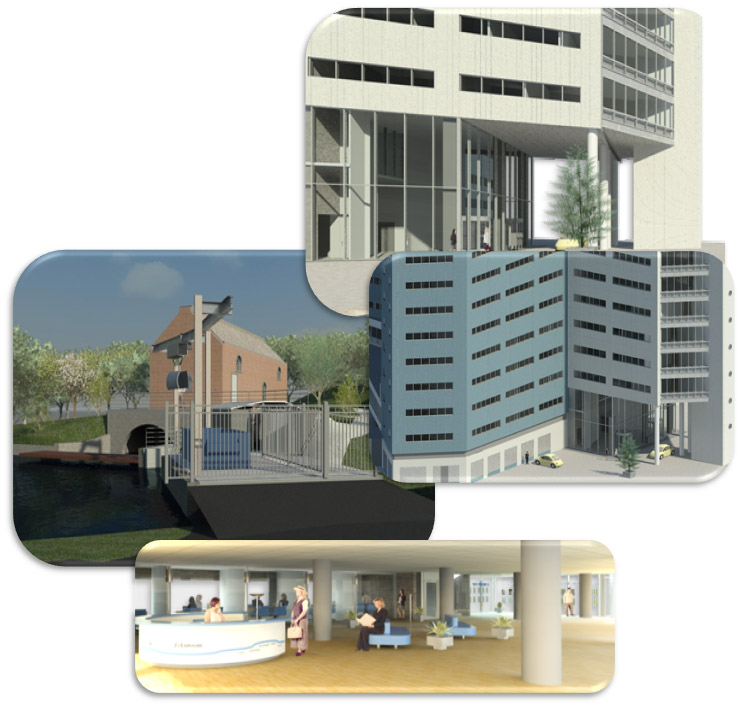 We're ready to help!
Ready to discuss CAD & GIS project? We are here to help! Send us an email and we'll get in touch shortly, or phone between 8:00 and 18:00 Monday to Friday — we would be delighted to speak.