Unlock the hidden value of commercial Real Estate!
Get the most comprehensive representation of the size and dimensions of your properties with the accurate and reliable measurements provided by the NEN 2580 Standard
The NEN 2580 measurement and why it is important.
The NEN 2580 standard and NEN 2580 measurement reports play a critical role in the real estate industry in the Netherlands by promoting consistency, accuracy, fairness, and transparency in the measurement of properties.
The NEN 2580 standard provides a consistent and uniform method for measuring buildings and other structures, which helps to ensure that all parties involved in a real estate transaction have a clear and consistent understanding of the property's size and dimensions.
Based on established standards and guidelines, and designed to provide accurate and reliable measurements of properties, the NEN 2580 report helps to prevent misunderstandings and disputes that can arise from discrepancies in property measurements.
Without a standardized measurement report like the NEN 2580, there would be a greater risk of misunderstandings and disputes arising from discrepancies in the measurement of properties. This could lead to confusion, mistrust, and potentially costly legal disputes.
When do you need a NEN 2580 measurement?
If you are involved in commercial real estate transactions in the Netherlands, you may find yourself in need of a NEN 2580 measurement report. The NEN 2580 standard is recognized as the legal standard for measuring buildings and other structures in the Netherlands. This means that it is often required by law for properties to be measured according to the NEN 2580 standard in real estate transactions.
The report is particularly important when you are leasing or renting commercial space, providing you with an accurate measurement of the space, ensuring that you are paying for the correct amount of square meters. This is important both for landlords and tenants, as it can help prevent disputes and ensure that everyone is clear on the size of the space being leased or rented.
Another situation where a NEN 2580 measurement report can be valuable is when you are looking to value a commercial property. The report can provide an accurate measurement of the property, which can be used as a basis for its value. This can be useful for a variety of purposes, such as obtaining a loan or insurance for the property, or determining its market value for a sale or purchase.
Finally, if you are planning to make changes to a commercial building, a NEN 2580 measurement report can be used to support your application for a building permit. This can help ensure that your plans are in compliance with local regulations and that your building project is approved smoothly.
With the precise measurement by certified NEN 2580 professionals at VEGRA INFO, determining the market value of your commercial building becomes much simpler.
We are here to solve your NEN 2580 issues!
Whether you're a building owner or manager with the goal of maximizing leasable space or maintaining a maximum occupancy-lease rate for your building, or a tenant who wants an accurate measurement check of the space already leased or to be leased, we're certified to offer you accurate measurement services of leased areas according to the NEN 2580 standard.
Combining years of extensive expertise and experience with the NEN 2580 standard, we provide reliable and accurate measurement reports, giving Dutch clients precise insights into the area and space measurement of their real estate. Our reports, analyses, plans, and measurements are carried out according to the latest industry standards and comply with NEN 2580 regulations.
What is included in the NEN 2580 measurement report?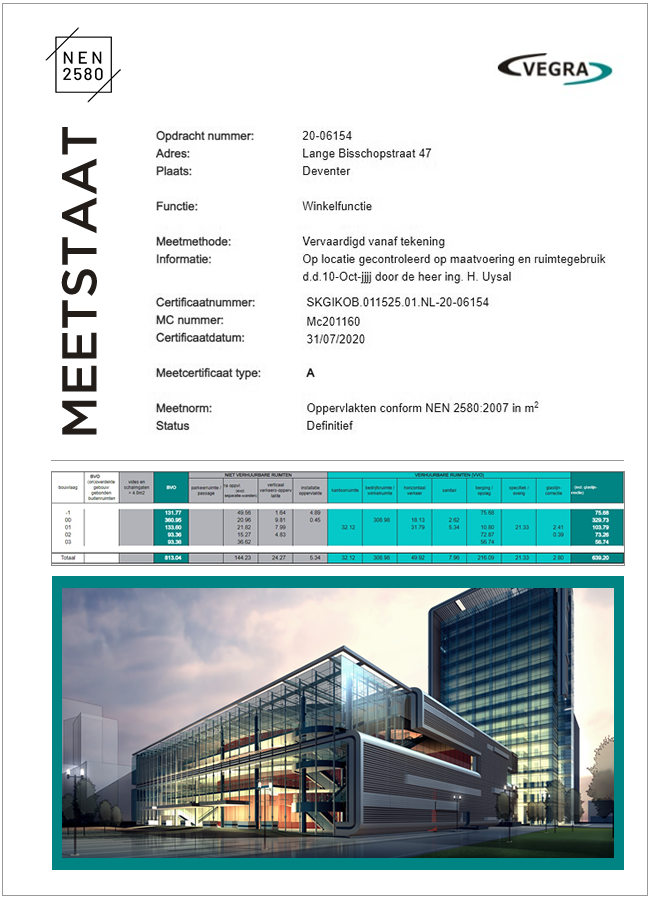 Access to all the valuable insights into the floor area to ensure that your real estate is being used efficiently and effectively.
Overview
A brief description of the building, including its location, type of construction, and age along with the date on which the measurement was performed
Measured areas
The measurement report includes details on the gross floor area (GFA) and the lettable floor area (LFA), which are important metrics for determining the value of a building and the rent that can be generated from it.
Definition of terms: A clear explanation of the terms used in the report, such as "net usable floor area" and "gross floor area".
Measurement methodology
A description of the measurement methodology used, including the guidelines and standards set forth in the NEN 2580 standard.
Drawings and diagrams
Detailed drawings and diagrams of the building, including floor plans, cross-sections, and elevations.
Limitations and exclusions
Descriptions of any limitations or exclusions in the measurement, such as inaccessible areas or spaces that have been excluded from the measurement.
Certifications
A statement of conformity with the NEN 2580 standard, signed by the surveyor or other authorized individual.
When it comes to making decisions about real estate, don't rely on guesses or assumptions, let the numbers tell the real story with a NEN 2580 measurement report.
Get your accurate and reliable NEN 2580 Measurement report today
Fill in the form to request a quote for your NEN 2580 measurement reports!